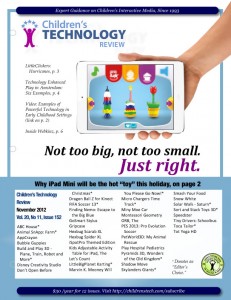 Children's Technology Review
November 2012
Vol. 20, No 11, Issue 152
CTR is subscriber supported. ($30/year for 12 issues). 
LETTER FROM THE EDITOR
For Kids, the iPad Mini is "Just Right."
If Apple's  latest lineup of mobile devices were the three bears, the story might read: "Once upon a time, there were three Apples – a little, small, wee iPod Touch for $300, a middle-sized iPad mini for $330, and a great, huge iPad which comes in two varieties — the iPad 2 for $400, and the iPad 3 for $500.
Which is "just right" for most children?
I think it will be the iPad Mini. Children's smaller hands are a better match with a smaller, lighter device, especially when it comes to holding and tilting, required with many apps. And, perhaps smaller things feel less threatening and "more snuggly," a concept well exploited by the Nintendo DS. Before this month however, smaller screens have meant fewer apps and harder to read print. The small-sized screens are also harder to huddle around for apps like Toca Tea Party.
Enter the iPad Mini — the compromise between smaller size and app access. For the first time, children can have all the iPad apps in a smaller form, not to mention the clear display — faster Wi-Fi, improved sound and better cameras (than the iPad 2). Even the new, smaller-size "Lightning" plug is more child appropriate. The new Mini can talk and listen, via Siri — and we've noticed that kids love to play with Siri, as much as they do a Furby. The iPad Mini has the best power per size ratio, with a moderate price ($330 and up). Not too big, not too small – we say just right. It's also worth noting that the iPad Mini is the same size as the two leading toy industry tablet offerings – the LeapPad 2 (www.leapfrog.com) and Innotab2 (www.vtechkids.com). Educators who are about to invest vast amounts in the large-sized iPads might want to hit the pause button, and parents — consider yourself warned. Apple's iPad Mini will most likely be the hot toy this holiday season.
The Past, Present & Future of Webkinz
Webkinz — the plush toy with an online alter ego has enjoyed an amazing ride, but it has also been surrounded by an air of secrecy. Until now. Don't miss Scott Traylor's interview with Karl Borst, the Creative Director for Webinz. Karl talks about the early days (2005), kid testing and his work on a new Unity based 3D virtual world from Ganz called Amazing Worlds. See page 6.
LittleClickers: Hurricanes
THEY huff and they puff…. and they can blow a lot of trees down. We know. We had one (actually, a tropical storm) pass over our house. As hurricanes go, ours wasn't very strong enough to even rank on the scale http://youtu.be/GUXYxZomqIs. But strong hurricanes can tear buildings to pieces. Want to watch? We found this video:  http://youtu.be/unV5KcSrY-I. Our storm knocked out our power, delayed our issue and made us postpone the Dust or Magic Institute. Page 3.
Showcasing Powerful Technologies in ECE Settings
Finally I'm just back from NAEYC where I participated in panel by the "Bs" (Bailey, Bales, Blagojevic and Buckleitner). The 90 minute talk is full of a lot of concrete examples of using technology in early childhood classrooms. http://youtu.be/IWlESMVEIaw.
REVIEWS IN THIS ISSUE
ABC House*
Animal SnApp: Farm*
AppCrayon
Bubble Guppies
Build and Play 3D – Plane, Train, Robot and More*
Disney Creativity Studio
Don't Open Before Christmas*
Dragon Ball Z for Kinect
FIFA Soccer 13*
Finding Nemo: Escape to the Big Blue
GoSmart Stylus
Gripcase
Hexbug Scarab XL
Hexbug Spider XL
iSpotPro Themed Edition
Kids Adjustable Activity Table for iPad, The
Let's Count LittleBigPlanet Karting*
Marvin K. Mooney
Will You Please Go Now!*
Micro Chargers Time Track*
Miny Moe Car
Montessori Geometry
ORB, The
PES 2013: Pro Evolution Soccer
PetWorld3D: My Animal Rescue
Play Hospital Pediatrics
Pyramids 3D' Wonders of the Old Kingdom*
Shadow Move
Skylanders Giants*
Smash Your Food
Snow White Solar Walk – Saturn*
Sort and Stack Toys 3D*
Speedster Tiny Drivers: Schoolbus "
Toca Tailor*
Tot Yoga HD