How Nintendo's
Wii U

Will Try to Reel You In

Buckleitner, W. (2012). How Nintendo's Wii U Will Try to Reel You In: The Psychology of Two Screen Play.  Children's Technology Review, Vol. 20 No. 7. pp 4-6. Articles are posted 30 days after publication date.

First a tiny history lesson. Anyone older than 20 can remember how heavy TVs used to be,  especially if you had to drag one across the room.

Before 1970 or so, nearly all TVs used glass CRTs (Cathode Ray Tubes) along with a television tuner. They were designed specifically  for pulling in Walter Cronkite's evening news broadcast, or The Andy Griffith Show after school. These bulky boxes were for sitting and watching, and not for interacting. Other than to get up an change the channel that is.

Video game hardware was an add-on that also didn't move once it was plugged into the set. In other words, it didn't fit in your pocket or come to you. You came to it. People called them "game consoles," a name still used today.

As a result, there is an entire generation of 30-something video game players that think of "video games" as something very different than today's mult-touch generation.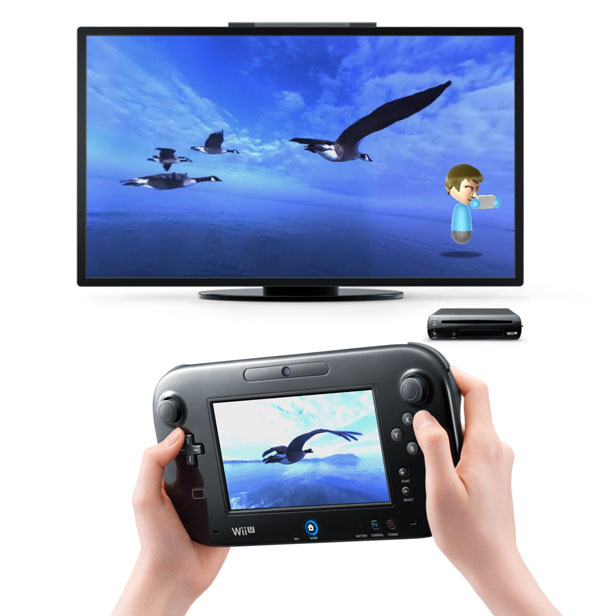 Fast forward to now. Today's TV is based on pixels and LCDs. A new generation of HD (high definition) screens provides cinematic 16:9 size ratios that have dropped in price and increased in quality.  We are now at a point when you can no longer buy a CRT TV. TV technology and associated "stay put" psychology is gone.
Could it also be that the entire psychology of TV-based interactivity is starting to change, as well? Have the Kinect, Wii and Sony Move started to become integral to the living room media ecosystem? If so, Wii U is Nintendo's future.
The Psychology of Two-Screen Interactivity 
In the spring of 2004, Nintendo surprised the gaming press with the jaw droppingly different design for the Gameboy, called the Nintendo DS. I recall a debate about what the letters DS meant. Some said Developer System, but I always thought Nintendo really meant Dual Screen. Having two clear screens instead of one—one for touch and control—the other for viewing, was certainly new. At the time there were some who viewed the DS as a toy, preferring Sony's PSP, which came out later that year. It had a much larger, clear 16 by 9 screen that did not have touch. For many serious gamers, the choice seemed obvious. The PSP was sleek, glossy black and pretty, and the graphics looked amazingly large and clear. It could also play movies from tiny DVDs called UMDs and adaptations of popular PS2 games.
But it was the Nintendo DS that won the battle, thanks to Pokémon, Mario and Wario. Today, there are more than twice the number of Nintendo DS units worldwide than the PSP (151.52 vs. 71.4 million) according to http://bit.ly/1wrMeW and http://bit.ly/N7iTL4. The lesson? Interactive media is more about being interactive and less about looking good. Nintendo has proven this repeatedly. Can the new Wii U, coming in just a few months, continue the winning record?
Things are more challenging in this age of iPad, app and multi-touch. But the Wii U is evidence that Nintendo still has some tricks left, especially with eight years of two-screen development experience. Want some proof? Here are 17 new interactive SSBS (small screen, big screen) techniques (or affordances) that the Wii U with GamePad brings. Many were captured on video, at http://youtu.be/sngjkghaoaA. Keep in mind that these are early observations, and names of games and techniques might change.
1. Outfielder's Mitt
Take the perspective of the fielder, with a view of the ball coming your way. When the ball "hits" your "mitt" (the GamePad) you feel a rumble.
2. Steering Wheel
Automotive engineers take note: the accelerometers and shape of the Wii U GamePad controller turn it into an effective and accurate steering wheel. In the Wii U version of Rayman, the wheel is used to control a 360° maze. Yes, you could've done this with a standard Wii Remote, but the shape of the GamePad makes it seem more intuitive, and the small screen can tell you what is going on and where you are going.
3. Magnifying Wheel
Cross a magnifying glass with a steering wheel and you get the idea of this technique. In Donkey Kong Crash Course (part of the Nintendo World suite of games) the GamePad screen shows a small part of the big screen for a closer look at the details of some levers, needed to make it through the maze.
4. Shield
Stop flying arrows from piercing your pretend armer with your magic shield. Just hold the GamePad up for protection.
5. Private Menu
I spotted this technique being used several times. The player holding the Wii U GamePad can choose pitches without tipping off the other players, aka the batter in Ubisoft Sports Connection. This technique can be used to turn the GamePad controller into a private DJ console, in Ubisoft's Just Dance, so that one of the players can choose the upcoming moves. Besides keeping the information from the view of the other players, it can unclutter the big screen for a more cinematic experience.
6. X-Ray (or Night) Vision
Offers a view of the interactive space to just one player that the other players might not have, so the person with the GamePad has more information. In Nintendo Land: Luigi's Haunted Castle, the person with the GamePad can see where the ghosts are hiding — the other players can't.
7. Hide and Go Seek
The person with the GamePad gets a global view of where the other players are hiding, whereas the players with the traditional controllers can only see the split screen.
8. Balancing Act
Can you balance a tray, while walking on the Wii Balance Board? The Wii U GamePad contains accelerometers and a compass, so it knows which way is up, flat and north. In Wii Fit U, you are required to deliver refreshments as quickly as possible. You can see what you are carrying on the screen.
9. Clear the Path
The GamePad holder assists the other players, by dropping in more health or destroying obstacles. It's like clearing the brush for the other players, so they can move easier.  This adds a  new twist to coop play.
10. Shuffleboard
This is a very fun control mechanic that feels like you're sliding coins across a slippery surface to hit a target.
11. Sling Shot
If Angry Birds were on the Wii U, you could use the GamePad to "pull back" on the screen, increasing the tension of the sling shot, and then lifting your finger to release, simulating a bow and arrow, or sling shot. It is a fun and powerful feeling.
12. Artist's Pallette
For doodling or putting a graphic idea into a game like Pictionary, the GamePad can serve up a set of paint and drawing tools, reserving the entire area of the big screen as your canvas.
13. Game Level Editor
In Scribblenauts Unlimited (Warner Bros.), the GamePad is used to offer a specialized set of tools which can be used to adjust the game automatically.
14. QWERTY Keyboard
Text entry has always been a problem for video game consoles. The 6.2 inch screen on the GamePad can double as a temporary QWERTY keyboard, when needed.
15. Photo Booth
Because the Wii U GamePad has a front-facing camera and a microphone, it can be used to take a snapshot of your face for use in an avatar or for synchronous communication with another player.
16. Telephone (FaceTime or Skype)
Stereo speakers and the microphone, combined with the Wii U's Wi-Fi connection make it possible to connect with anyone at any time. It has not been confirmed that Skype will work with the Wii U, however it seems logical that "Skype-like" features could be a popular Wii U feature.
17. Panorama View
The GamePad controller has everything you need to turn your living room into a double decker London tour bus, so you feel like you're someplace else, in the first person. You can adjust the level of zoom with the analog stick.
These are just some of the new interaction techniques that will continue to influence the ever-changing word "screen."     We also know that screens today are a lot easier to move across the room.
Wii U Fact Sheet
Launches: Holiday 2012. The actual date is a surprise, Nintendo style.
Size: 1.8 inches high, 10.5 inches deep and 6.8 inches long.
Weight:  3.41 pounds (1.5 kg).
Appearance: The Wii U game unit is about the size of a large, old-fashioned CD-ROM drive.
Wii U GamePad: The Wii U GamePad controller creates a second window into the interactive world. That "window" is a clear 6.2-inch, 16:9 aspect ratio LCD touch screen, as well as traditional button controls and two analog sticks. Inputs include a +Control Pad, L/R sticks, L/R stick buttons, A/B/X/Y buttons, L/R buttons, ZL/ZR buttons, Power button, HOME button, -/SELECT button, +/START button, and TV CONTROL button. The GamePad also includes motion control (powered by an accelerometer, gyroscope and geomagnetic sensor), a front-facing camera, a microphone, stereo speakers, rumble features, a sensor bar, an included stylus and support for Near Field Communication (NFC) functionality. It is powered by a rechargeable lithium-ion battery and weighs approximately 1.1 pounds (500 g).
Other Controllers: The Wii U console is capable of supporting two Wii U GamePad controllers and up to four Wii Remote (or Wii Remote Plus) controllers or Wii U Pro Controllers. Older Wii accessories such as the Nunchuk, Classic Controller and Wii Balance Board will also work.
CPU (Central Processing Unit): IBM Power-based multi-core processor.
GPU (Graphics Processing Unit): AMD Radeon-based High Definition GPU.
Storage: Wii U uses internal flash memory. It also supports SD memory cards and external USB storage.
Media: Both new Wii U disks and older Wii optical discs.
Video Output: Supports 1080p, 1080i, 720p, 480p and 480i. Compatible cables include HDMI, Wii D-Terminal, Wii Component Video, Wii RGB, Wii S-Video Stereo AV and Wii AV.
Audio Output: Uses six-channel PCM linear output via HDMI connector, or analog output via the AV Multi Out connector.
Networking: Wii U can access the Internet via wireless (IEEE 802.11b/g/n) connection. The console features four USB 2.0 connectors – two in the front and two in the rear – that support Wii LAN Adapters.
Wii Compatibility: According to Nintendo, "nearly all Wii software and accessories can be used with Wii U."
Wii U Planned Release Titles
According to Nintendo's Press site, these titles will be available the day that the Wii U system launches.
2K Sports
NBA 2K13
D3Publisher
Ben 10: Omniverse
Family Party: 30 Great Games (working title)
Rise of the Guardians: The Video Game
Electronic Arts
Mass Effect 3
Maximum Games
Jett Tailfin
NAMCO BANDAI
TANK! TANK! TANK!
TEKKEN TAG TOURNAMENT™ 2 (working title)
Nintendo
LEGO City: Undercover
New Super Mario Bros.™ U
NINJA GAIDEN™ 3: Razor's Edge
Nintendo Land
SiNG (working title)
Wii U Panorama View (working title)
Game & Wario (working title)
Pikmin 3
Project P-100 (working title)
Wii Fit U
SEGA
Aliens: Colonial Marines
Sonic & All-Stars Racing Transformed
THQ
Darksiders II
Ubisoft
Assassin's Creed III
Just Dance 4
Marvel Avengers: Battle for Earth
Rabbids Land
Sports Connection
Your Shape: Fitness Evolved 2013
ZombiU
Rayman Legends
Warner Bros. Interactive Entertainment
Scribblenauts Unlimited
Batman: Arkham City Armored Edition
Broken Rules
Chasing Aurora
Frozenbyte
Trine 2™: Director's Cut
Gaijin Games
Runner2: Future Legend of Rhythm Alien
Nicalis
Aban Hawkins & the 1,001 Spikes
Pwnee Studios
Cloudberry Kingdom