Children's Technology Review ($60/year at www.childrenstech.com) is designed to help parents, teachers, researchers, publishers and librarians find interactive media products.
Children's Technology Review, (CTR) is sold as a subscription, and is delivered both weekly and monthly to subscribers in electronic form, and as an online database called CTREX (Children's Technology Review Exchange)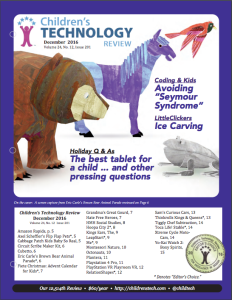 www.ctrex.us.
HISTORY
Started in 1993 based on doctoral-level research Children's Technology Review (CTR) is designed to bring an educational voice to the review process. Ratings are given by educators who have achieved inter-rater reliability on the same review instrument.
The work is supported by "clean" money, namely  subscriber fees, publication sales and Dust or Magic conference registrations. No income is derived from sponsorships, selling award seals, grants or affiliate sales programs.
Originally a Master's project (Survey of Early Childhood Software, Buckleitner, 1984), the underlying theoretical framework behind the ratings has remained unchanged over the years. Ratings can be summarized by the guiding questions that a reviewer takes into the evaluation process:
"What does the child walk away from the experience(s) with that they didn't have when they first came to the experience(s)?"

"How does the experience empower (or dis-empower) a child"

"Does this experience leverage the potential of technology in a way that traditional, non-digital or non-linear experiences cannot?"

"How does this product compare with similar products?" 
WATCH A REVIEW
Get a sense of our "voice" on children's interactive media by watching a review in progress.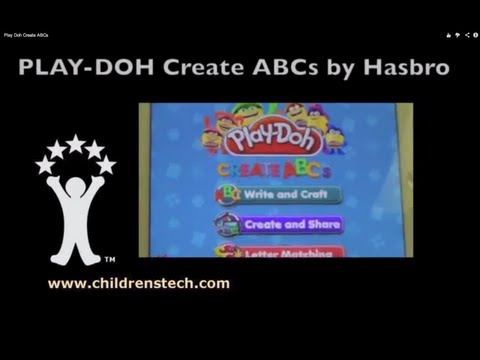 LIMITATIONS & MANAGING BIAS
No review system is free of bias. We are no exception. Our evaluation instrument (and resulting ratings) was/is designed to reward settings that empower children, fostering the an active, responsive, child controlled setting. This bias comes directly from our instrument, which was inspired by Jean Piaget (and others) ideas about constructivism.
Lower ratings are given to product that remove control from a child or that may contain sloppy interactive design elements, such as an over-illustrated menu, sound that can't be adjusted, an introduction that can't be interrupted, sloppy language localization, gender or ethnic bias, poor leveling, commercial agendas and other factors that might be noted by the reviewer.
Other items we want our readers to know:
 • We are selective in what we review. There are now thousands of children's products (mostly apps) being published each year, we no longer are able to comprehensively cover the market. We do not review videos, non-interactive toys, books, movies or many free apps.
• We make mistakes. We strive for accuracy, however, interactive media changes quickly. That's why CTREX lets publishers comment on reviews; and there is a place for public commentary. We like to say "a review is the start of a conversation."
• We child test, but only selectively. We continually preach about the value of child testing, but in reality we only do a very limited amount, in the Mediatech Foundation. This testing is limited to high stakes products. We understand that child testing is not an exact science. A child's opinion of a product will vary greatly based on the social setting, their developmental level and numerous other factors. Still, what they have to say, and how a product influences their play, is amazingly helpful information.
• We try to help publishers get five stars. If we are critical of a product, we attempt to provide a concrete example of why. We take an extra effort to assign high or low ratings accompanied with specific examples.
CTR's rating system is an academic attempt to apply a constructivist, active learning theoretical framework to children's interactive media; and this bias is burnt into the rubric. We acknowledge that not everyone shares the same ideas with our definition of quality.
Look at our service with this in mind.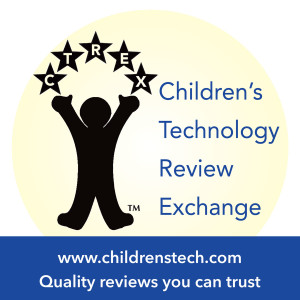 CTREX: CHILDREN'S TECHNOLOGY REVIEW EXCHANGE
In the summer of 2014, the review database was revised to allow flexible searches of the latest products. The database is free to browse, but full reviews and reports, along with back issues, are limited to paid subscribers.
You'll notice it is now possible for subscribers to comment, change a password or find a similarly designed product.
This new design helps us fulfill our original 1993 mission: to make it easier than ever to find out what a real picky teacher would say about current products, and to let others — including the publisher — in on the conversation.  Have a look and give us your grade.
CTREX DATABASE  FACTS AT A GLANCE
Products reviewed: commercial INTERACTIVE products marketed toward children birth to 15 

(n=16,855 

as of December 2016). These include apps, video games, web sites, hardware and software. Not all product reviews are publicly available.   

Ratings assigned: 12,389

Not reviewed: linear or non-interactive media, including books, videos, and many types of toys

Philosophy: constructivist, technological empowerment of a child

Date of first review: 1982

Publisher: Active Learning Associates, Inc., 120 Main Street, Flemington NJ USA

Editor: Warren Buckleitner
Features to try:
• Responsive web design. CTREX was made with RWD (Responsive Web Design). That means it can sense your screen size and adjust accordingly. Try it on your phone, laptop or tablet, and rotate the screen. CTREX adapts.
• Outside experts and their rubrics. The KIDMAP and Four Pillars rubrics help you see interactive products using the eyes of other reviewers. Meet all of the current experts at http://reviews.childrenstech.com/rwd/experts.php
• A healthy exchange. Compare our ratings with CTREX Expert Claudia Haines on The Sneetches http://reviews.childrenstech.com/rwd/review.php?id=19696.  Different experts raise different issues, helping you make better decisions.
• The Flex Rubric System — CTREX is the first to use a DIY rubric system. So you can wrap up to 50 "Quality Attributes" around any product. You can also share your ratings next to ours, and bookmark your review in your profile.
• No selling. Period. Unlike many other review sites these days, we don't make money when you buy a product. CTREX is designed to inform, not sell.
• Recommendations. CTREX has the KAPi and BolognaRagazzi juror picks; along with hand-picked lists to support your curriculum, age or platform.
• Data exporting. Use CTREX to populate your library database, or send a bookmarked list of recommendations to a busy parent.
• Site Licenses. Administrators get their own control panel that lets them track usage at their library or school.
• A Publisher Directory. Only CTREX has the contact information for 2649 publishers, at  http://reviews.childrenstech.com/rwd/publishers.php
• Just the facts. CTREX gives you details first, followed by informed, authored opinions. Bias is disclosed and flagged.
FUNDING
CTR is independently supported by subscriber fees, sales of books, YouTube advertising and our series of 

Dust or Magic

 Institutes. Because Warren Buckleitner has been a contributor to the New York Times, CTR abides by the NYTimes rules for freelancers, when it comes to such things as media tours or product samples. 

No advertising (other than ads on our YouTube videos, which are selected by Google's alogrithms). 

No consulting. We don't accept consulting and beta review offers. It's not easy, but that's not what we're about. 

We work for children, not for publishers. We're friends with many publishers who make children's interactive products. However, the children's publishing community knows that while we might like them as a person, our rubric may not like their product, if "like" is defined by a high or low rating. It's about the science rather than the feelings.  

 

No Affiliate Links. Unlike many review sites, we do not make money using "affiliate link" programs offered by  online stores like Apple or Amazon.  It's not that sites that use these services are biased. However, it's not what we're about. We're not a store or catalog; we don't feature products, and we have no financial incentive for you to purchase or not purchase a particular product. 
STAR RATINGS, RUBRICS, SEALS AND AWARDS
The generic rubric was an attempt to map a Piagetian-inspired (constructivist) theoretical framework onto the then emerging category of commercial digital media. It is a generic system, weighted to reward products that foster feelings of child control with a higher scores. The rubric used today is largely the same as the original. When used by a novice reviewer, however, the instrument does not generate reliable ratings.
The inter-rater reliability process typically takes at a minimum of  20 products and 6 months by a person familiar with the basics of educational psychology. Multiple rubrics help to better understand specific genres of products. The internal motto: "our rating system is the least-worst out there." While our approach does generate quantitative ratings, both as a percent and as a 1 to 5 star form, it is important to understand the larger context of these numbers, as well as the current state of the market.
EDITOR'S CHOICE AWARDS
This seal is Picky Teacher's approval for any product. So if you agree with the Picky Teacher's theoretical point of view on interactive media, chances are good that you'll trust this mark.
Products that receive higher ratings (generally 4.3 stars or better) may be deemed "Editor's Choice." This means the chances are low that a child will be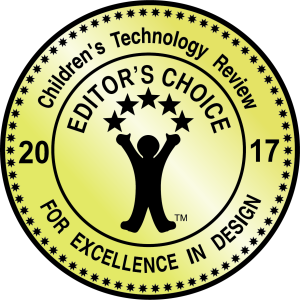 disappointed by the product.
Note that we use a dated seal system that publishers can display at their option. Awards are issued without fanfare; no money changes hands as part of this award or rating process.
External validity is increased by working with other reviewers and organizations. The CTR database drives the KAPi Awards (given at CES) and the BolognaRagazzi Digital Award, given each spring at the Bologna Children's Book Fair. The Dust or Magic events give CTR reviewers a chance to compare notes with other researchers, publishers and reviewers, in our ongoing search for five stars.
The money we make from Dust or Magic registrations and sales from subscriptions supports this work. There are no sponsoring organizations or external funders to please or displease.
HIGH RES ART