Innovation Osmo by Tangible Play
Best App For Younger Children Lumikids Park By Lumosity
Best App For Older Children Monument Valley by Ustwo Games
Best Maker Maker Creatorbox by Creatorbox
Best Tech Toy Moss By Modular Robotics
Best Robot Ozobot By Ozobot
Best Hardware LeapTV By Leapfrog
Best Family Entertainment Fantasia Music Evolved By Harmonix.
Emerging Pioneer Chip Donohue, Author and Educator, Erikson Institute. Few have done so much to merge academia with practice.
Legend Dean Kamen, Inventor and Founder of FIRST Robotics. He was into STEM before it was sexy
2015 KAPi Jurors
Warren Buckleitner, CTR
Chris Byrne, TTPM.com
Richard Gottlieb, Global Toy Experts
Claire Green, Parents' Choice Foundation
David Kleeman, PlayCollective
Rebecca Levey, KidzVuz.com
Dan Nessel, DadDoes.com
Robin Raskin, Living in Digital Times
Reyne Rice, Toy Trends Specialist
Mark Schlichting, Noodleworks
Andrea Smith, MommyTech TV
Scott Traylor, 360KID
Celebrate a Night of Kids' Media Greats
The 5th Annual KAPi (Kids at Play Interactive) Awards celebrate excellence in children's media. We have a wonderful sangria and snacks reception honoring this year's winners. Emcees Warren Buckleitner, Children's Technology Review and Robin Raskin, Living in Digital Times, the KAPi judges and some special guest stars will be presenting awards to some of the most deserving people and products in the kids' tech industry.
Meet, greet, and mingle with the toys, the tech and the people as we kick off the 2015 Year of the Digital Kids.
When: Wednesday Jan 7 International CES
Where: Venetian, Level 2, Bellini 2006
Time: 5:30pm – 7:00pm
Dress: Bling it out, toy it up, or come as you are.
Sangria, snacks and pinata reception to follow awards
2015 Legend Award: Dean Kamen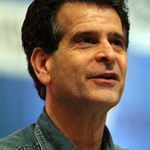 Dean Kamen was into Science, Technology, Engineering, and Math (STEM) before it was sexy. His most famous invention is the Segway. But few people know that in 1989, Kamen founded FIRST (For Inspiration and Recognition of Science and Technology). Today FIRST has many robotic programs, including the First LEGO League. – See more at: http://kapiawards.com/2015kapi/dean-kamen/#sthash.YCNMoo0O.dpuf
2015 Pioneer Award: Chip Donohue
Chip Donohue, Author and Educator, Erikson Institute. Few have done so much to merge academia with practice. Dr. Donohue is the Dean of Distance Learning and Continuing Education at Erikson Institute in Chicago, where he is leading the development of online Master's degree, certificate and continuing education programs. He is also the Director of the TEC (Technology in Early Childhood) Center at Erikson.