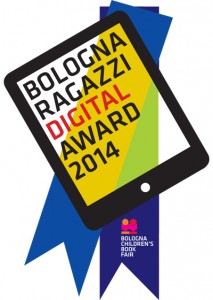 WINNER – Pierre et le loup (Peter and the Wolf) by Camera Lucida (France) is a well crafted celebration of crisp music and graphics; raising the bar for mixing storytelling, information and musical play. This is an extraordinarily well-thought visual mix of motion media, animation, typography and graphic design that is full of surprising extras.
MENTION ABC Actions by Peapod Labs (USA) Crystal clear images bring language action to life at a child's fingertips; we loved the multiple navigation paths and the ability to dynamically change between the two available languages English and Spanish.
MENTION Double Double by And Then Story Designers (USA). Simple drawings and basic animation with elegant, funny and intelligent results, based on a simple idea.
2014 Winners and Mentions Fiction 
WINNER Love, The App by Niño Studio (Argentina). It was easy to love this app – tremendous digital imagination and inventiveness applied to a book which celebrates the textures and trickery of paper, giving life to the vulnerability of the story.
MENTION Midnight Feast, Slap Happy Larry (Australia). Evocative, sinister and strange (fortunately you can turn down the scariness level for younger readers) this is a story to linger over and take into your dreams, full of surprising changing perspectives.
MENTION Jack and the Beanstalk by Nosy Crow (UK). Jack's magic beans sprouted a magical app, full of innovative interactive design elements that stretch the medium. Hunt for the Golden Goose, outrun the giant, and mend a broken mirror image of yourself.
Shortlist (Top 20 for 2014, in Alphabetical Order)
Here were the top 20, including winners and mentions, in alphabetical order. Note that comments are CTR's and do not reflect the opinions of the jurors.
1000 Adventures by Dada Company (Spain) employs a creative "touch countdown" meter on each page, which increased engagement and helps children know when it's time to move to the next screen.
Amico Ragnolo by SmallBytes Digital (USA) is a Spanish language book with excellent illustrations, although the responsivity could be improved.
Byron Barton by Oceanhouse Media (USA) combines clean graphics with Oceanhouse Media's fantastic text scaffolding.
Disney Animated by Touch Press (UK) is one of the most breathtaking non-fiction apps of all time. Download this app, if you have room.
Double Double by And Then Story Designers (USA) shows how to use a multi-touch screen to present a simple idea, in a surprising way.
Droles Animaux by Goodbye Paper (France) is a wonderfully illustrated, zany app with enough interactivity to bring an element of surprise to the letters.
Easy Studio by 3 Elles Interactive (France) turns a child into the animator by way of a well-designed set of tutorials and animation tools.
Facciamo (Let's Face It) by Topipittori Isotype.org Semidigitali (Italy) is a delightful collection of interactive forms that can be mixed and matched to make numerals, faces and relationships. Take note of the way the unveil technique is used to uncover hidden images.
Fun With Colors The Discovery App by Bastei Lübbe AG (Germany) brings the primary colors to life by way of refreshingly unique illustrations. Noteworthy feature: The "color snake" feature that chases your finger, as you scribble.
Gekke Dieren by Querido Children's Books (Netherlands) lets you mix and match animal parts, and record a sound. The illustrations are particularly strong, and manage to go together, despite coming from very different types of animals.
I Love My Dad by SnappyAnt Play Limited (Australia) combines delightful illustrations and a meaningful story; though limited interactive design.
This Is My Body by Urbn: Pockets (Germany) mixes interesting facts with non-page, non-linear, up/down, left/right tab-based navigation format. Noteworthy feature: the bookmarks that signal a different navigation path; and the interactive growth scales, where you get to stretch your foot.
Jack and the Beanstalk by Nosy Crow (UK) is yet another outstanding fairy tale from Nosy Crow. Noteworthy feature; the interactive mirror puzzle.
Love – The App by Niño Studio (Argentina) combines a strong story with compelling illustrations. The story has a surprising twist as it reveals itself to you.
Midnight Feast by Slap Happy Larry (Australia) reminds us all that touch screen storytelling isn't exclusive to the very young.
Petting Zoo by Fox & Sheep GmbH (Germany) is a textbook example of interactive animation; with visual surprises that morph from screen to screen, challenging the definition of page.
Pierre et le Loup (Peter and the Wolf) by Camera Lucida (France) puts visual and auditory quality of the highest calibre at a child's fingertips. In this case, it's a symphony orchestra. Noteworthy feature: The augmented reality exploration of the orchestra.
Red in Bed by Josh On (USA) is a playful exploration of the primary colors, and the role they play in what a child sees.
Rules of Summer by We Are Wheelbarrow (Australia) is a huge download, for not a lot of content. But the idea of pinching and pulling out of a picture is unique, landing this app on the finalist list.
Sneak a Snack by Mario Brodeur/U.n.I Interactive (Canada) is comprised of 3D pages that can be moved or swiped, your choice.
See the 2014  Juror's Commentary or download the  article as a PDF  (from the March 2014 Issue of Children's Technology Review).